Pair of YAMAHA mid. type JA-0610 black original for yamaha NS-40M. NOS.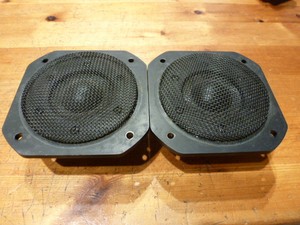 ---
Voici une parfaite paire de Médium à dome YAMAHA Type JA-0610 pour enceintes YAMAHA NS-40M Monitor . Mesurés tous les deux à 5,3 Ohms DCR . Pièces New Old Stock conservées en réserve pour des YAMAHA NS-40M et jamais utilisées Les photos sont les photos des pièces originales que vous achèterez .This nice working pair of dome midrange YAMAHA Type JA-0610 are NOS kept for a spare pair of YAMAHA NS-40M monitor speaker sold lately . Please look at the photos of original parts ....... both mesured at  5,3 Ohms DCR .
Enlèvement possible à Wavre ou à Gand après la vente et RDV au 0475-48.63.08.Envoi très soigné comme toujours avec beaucoup de protections dans un carton double .NO Bidder with at least 10 & 100% Positive feedbackLes enchérisseurs n'ayant pas au moins 10 évaluations positives ne sont pas acceptéssur mes ventes .
As usual we'll pack this nice Machine with A LOT of protective material
and packed in a strong DOUBLE box , shipped to you with a tracking number .
Comme à notre habitude , cet appareil sera très bien emballé avec énormément
de protections et envoyé dans un carton DOUBLE avec un N° de suivi .