Car / Vehicle OBD-II GPS Tracker - Plug & Play - Free giffgaff O2 sim 611864726274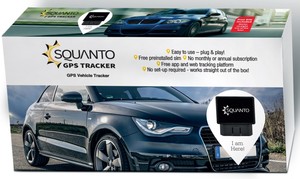 ---
Squanto OBD-II GPS Vehicle Tracker

This easy to install GPS tracking device provides the ultimate in vehicle safety and security, enabling you to track and monitor your vehicle in real time wherever it may go... It's like a mini satnav that sends its location using the sim inside to a server that you login to via the free iOS/Android app or Squanto website portal. You can then see your vehicle moving on the map in real time! There is no distance limit - you could even track it in New Zealand from the UK!

You need to have an active SIM card with credit, so we preinstall a Giffgaff O2 PAYG sim which you need to activate online for the minimum £10, whereupon Giffgaff will give you an extra £5 for free! What you spend thereafter is entirely up to you as you're in control - depending on how you use the tracker, this initial £15 credit could last months or even years!

When you've activated the sim, all you have to do then is plug the tracker into the OBD port (normally under the dash - a quick Google search will reveal exactly where yours is), download the Squanto app & login to the app or website tracking portal using the login details in the box - it's that simple! You can then track away to your heart's content... And since the tracker draws its charge direct from the OBD port then you will never need to recharge it!

You can also create "Geo-Fences" which are virtual boundaries on a map - when the tracker passes through the boundary it will send you a text alert. This can be set around your house, garage, garden etc.

NO monthly rental or subscription fee.Free UK DeliveryOngoing customer supportEasy to understand quick start instructionsProduct SpecsSize:        53 x 46 x 23mmWeight:    45gBattery:    180mAh (2 days on standby if needs be, however it should be plugged into the OBD for a constant power source)Squanto - Keeping Track of What Matters Most!